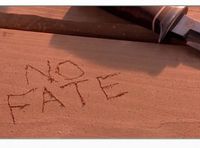 I've nicked that  from Terminator 2: Judgement Day. One of my favourite films. 
And one of my favourite quotes! 
I truly believe that there is no fate but what we make for ourselves. 
If I'd listened to what certain other people in my life TOLD me I'd be: 
- a worthless individual 
- in prison 
- dead 
- penniless/homeless 
If I'd listened to those who told me I'd be: 
- on medication forever 
- unable to exercise again 
- permanently damaged goods 
If I'd listened to those people, teachers, doctors, so-called experts… 
All those who had me down as something I wasn't… 
I probably WOULD be at least one or ALL of those things. 
It is true that I had troubled times, lived a bit of a rock and roll lifestyle, and I was diagnosed with all these mental and physical conditions that could've slowed me down or stopped me all together. 
But they didn't. 
You know why? 
Because I CHOSE. 
I chose to become someone else. 
I chose NOT to listen to the others and listened to my inner wisdom that had been guiding me all along (I was just too busy to listen!) 
No more therapy. No more drugs (prescribed or illegal!) 
I was literally one thought away from freedom. 
So I chose. I made that decision. To make my OWN fate. 
A decision I know I will never regret. 
If you're having a hard time making decisions or if you feel you've been written off by others, what can YOU start with today? 
Start off small. Get back some control and clarity on your situation and choose to do one thing for yourself (this self help survey will help!) 
What will you choose to do!?